---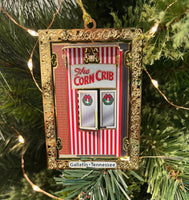 Gallatin Christmas Ornament 2022: The Corn Crib
(Twelfth in the series from the Gallatin Area Chamber of Commerce)
 If you've been around Gallatin for some time, it's likely you've noticed the red and white striped stand sandwiched between two of the historic buildings on Water Avenue. If you've been around for several decades, you can probably even remember the aroma of freshly-popped buttery goodness that once filled the air from the "Corn Crib" as you strolled the streets of Downtown Gallatin. Under the ownership of Lee West in the 1950s and all the way to the late 1970s with the owner, Floyd Scott, it was known as the place to stop for popcorn or at one point, even a snowcone. When walking or driving by Scott's Popcorn Stand, many remember hearing Mr. Scott exclaim, "Come on get some popcorn", and you could smell the aroma from the next block.
 Now owned by Mudd Properties, the space that for many years has only served as a fun photo op, home to many memories, and a hub for connectivity (housing equipment for the downtown area's WiFi), once again is a place for…POPCORN! On weekend nights during warm weather and special occasions, local business, KB Popcorn, can be found bringing life to the space with their creative flavors.
 The Corn Crib still stands today at 102 N Water Avenue in Gallatin, Tennessee.
 Our keepsake ornaments are produced by Beacon Design by Chemart, producers of the White House Historical Association ornaments since 1981. These keepsakes are 100% handcrafted in the U.S.A. We hope these collectible ornaments will become heirlooms to pass down from generation to generation in your family.